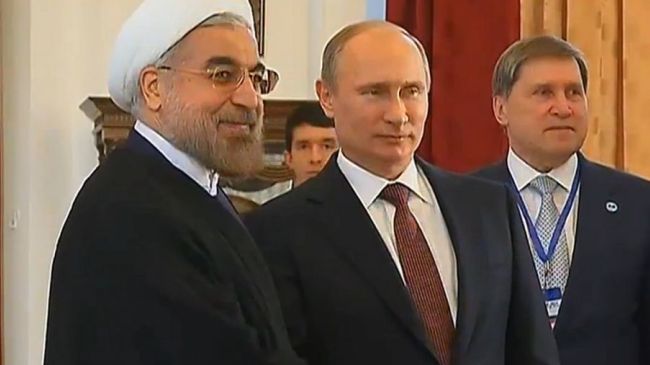 Alireza Noori
(al-monitor) May 10
Amid rising US pressure, Iran and Russia appear to be gearing toward forging closer military and defence ties. Last week, the commander of the regular Iranian navy announced plans for an Iranian-Russian joint military exercise in the Persian Gulf. Particularly given the recent speculations about differences arising between Tehran and Moscow in Syria, the announcement by Rear Adm. Hossein Khanzadi seemed to serve as a signal that bilateral ties are vital and unbreakable.
It is not the first time Russia and Iran are to conduct such exercises. The Caspian Sea was the stage of similar war games in 2015 and 2017. Of note, Russia has been holding such maneuvers with China and Pakistan as well. But what makes the new Iran-Russia exercise stand out is the timing and the latest developments preceding it.
Among those developments are the Artemis Trident 19 exercise jointly conducted by the United States, Britain and France in the Persian Gulf; the US decision to designate Iran's Islamic Revolutionary Guard Corps (IRGC) as a Foreign Terrorist Organization; Washington's push to entirely halt Iranian oil exports and Iran's threats that it may shut down the strategic Strait of Hormuz as a reciprocal measure; US efforts to boost its military presence in the Persian Gulf region, including Oman, Qatar and the United Arab Emirates, where it has deployed F-35 fighter jets; and Saudi steps toward forging what has been referred to as an Arab NATO.
These developments have taken place in a context in which after adopting all forms of political and economic measures intensified by a widespread media war — and as part of its so-called maximum pressure policy — the United States is now pushing confrontation with Iran into a new level by militarily threatening Tehran or at least eliciting harsh responses from the latter. Meanwhile, the administration of President Hassan Rouhani has put an end to its policy of "strategic patience" by, for now, abandoning some of its voluntary commitments under the Joint Comprehensive Plan of Action (JCPOA). Foreign Minister Mohammad Javad Zarif has in turn brought up the prospects of an Iranian withdrawal from the Treaty on the Non-Proliferation of Nuclear Weapons as an option. After Washington's unilateral withdrawal from the JCPOA last May, Iran seems to have further lost its faith in negotiating with the United States. In a recently released comprehensive vision called the "Second Step of the Revolution," Supreme Leader Ayatollah Ali Khamenei once again dismissed the idea of any talks with Washington. Moreover, Qasem Soleimani, the powerful commander of the Quds Force — the foreign operations branch of the IRGC — has also described talks with the United States under the current circumstances as "sheer surrender."
To put this stance into practice, Iran is expected to take more steps looking ahead. In this vein, Khamenei has already called on Iranians to "make appropriate and proportionate arrangements against the enemy's military postures." His remarks touched upon resisting economic, political and intelligence campaigns against Iran rather than necessarily a military confrontation. Yet a call for military preparedness could still be read between the lines. Iran has been focusing on ensuring such preparedness in recent years, most visibly in the form of its controversial missile program. What Iran chiefly lacks under the present circumstances is a foreign partner for conventional arms deals as well as military and security cooperation in an extremely tense and unstable region. Given Iran and Russia's common views on regional security and their shared anti-American approach, Tehran has thus sought to expand its defense ties with Moscow to fill this gap and meet certain long-term goals. These goals include finding a place on Russia's side in Moscow's rivalry with Washington, promoting "an aggressive defense strategy" and collaborating on regional security. Importantly, Iran has also sought to make use of Russian military know-how. The Persian Gulf is a theatre where Russia can flex its muscles in a region where the United States has long been the lone foreign superpower. In this vein, the joint Iranian-Russian exercises could eventually serve as another card in Russia's political bargaining with Washington. It is important to note that under the current circumstances such drills may not provide immediate or even medium-term strategic benefits for Iran. Tehran is aware of this, and thus its main aim with the exercises is to entice a Russian willingness to establish broader defense ties.
Due to arms trade restrictions imposed on Iran by the United States and European countries following the 1979 Islamic Revolution, Russia has been the leading arms supplier of the Islamic Republic. Under a deal signed in 1989, Moscow agreed to deliver $5.1 billion in weapons to Tehran, including S-200VE air defense systems, MiG-29 and Su-24 fighter jets as well as Mi-17 helicopters. However, seven years later, the deal was in tatters after the signing of the US-Russia Gore-Chernomyrdin arrangement. Normal Russian military ties with Iran were only resumed after this partnership was terminated. As such, in the 2000s, Iran imported even more Su-25 aircraft and purchased the Tor-M1 air defense systems to protect its vital government, military and nuclear sites against attack. One of the most notable deals between the two sides was for the Russian S-300 missile defense system, which was delivered to Iran in 2016.
With the current external pressure on Iran only mounting, Moscow remains the sole ally that Tehran can count on for arms supplies and military partnership. Although such cooperation is facing hurdles under UN Security Council Resolution 2231, the two are making efforts to bypass the existing limitations. Perhaps more importantly, Russian military cooperation with Iran could jump with the lifting of the UN arms embargo in 2020 under Resolution 2231, which endorses the nuclear deal. Indeed, Dmitry Shugayev, the director of the Federal Service for Military-Technical Cooperation, has stressed that Iran-Russia military relations could further expand after 2020, and has also expressed Russia's interest in cooperating with Iran on the stationing of a defense shield on the coasts of the Persian Gulf.
A post-2020 expansion in Iranian-Russian military cooperation would be a natural follow-on of a bilateral agreement in 2015 between the two sides to expand military ties, characterized by closer and more concrete cooperation. Indeed, it was within the framework of the 2015 agreement that Russia delivered its long-awaited S-300 defense systems. The accord also paved the way for Iran's hosting of Russian aircraft at its western Nojeh air base and agreement to allow Russian fighter jets, bombers and missiles to use Iranian airspace for operations in Syria, where the two countries have found a lot in common to work on together.
To counter US pressure with greater strength, Iran is feeling the urge to deepen its military ties with Russia post-2020 by requesting further conventional arms, including Su-30 and Su-35 fighter jets, Yakovlev Yak-130 light fighters, Mi-8 and Mi-17 helicopters, T-90 tanks and the Bastion mobile coastal defense missile system. But beyond mere weapons imports, Iran wants military ties with Russia to also encompass long-term cooperation aligned with the Islamic Republic's regional and geopolitical strategies. However, it is noteworthy that both sides are pursuing the potential expansion of defense ties with caution: Iran has no intention of serving as a bargaining chip in the hands of Russia in its rivalry with the United States. Similarly, Moscow is by no means interested in unnecessarily entering a battlefield in which Iran is facing off the United States and its regional allies at a level unseen in recent history. (Courtesy: al-monitor)
(Alireza Noori is an assistant professor of regional studies at Shahid Beheshti University in Tehran. His research interests focus on Iran-Russia relations and Russian foreign policy}.
Share via