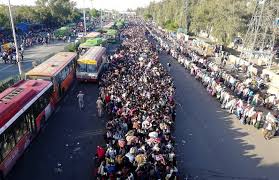 DN&V Correspondent
Lucknow, May 07: The Log Party today expressed deep concern over the plight of migrant labourers in the country. The party said following lockdown these poor labourers have been pushed to the wall.
The spokesman of the Log Party headed by former Secretary Government of India Vijay Shankar Pandey said here on Thursday that reports coming from BJP ruled Karnataka that the state government has stopped these labourers from leaving the state is quite disturbing. The spokesman said the Karnataka cannot treat these hapless people like bonded labourers under the pressure of business lobby. The spokesman said lakhs of people from several parts of the country were forced to move out following the lockdown. The spokesman said even thousands of them hit the roads on foot along with their families to reach their respective states. The spokesman further said with no work, no money, the initial enthusiasm of donors and state agencies to feed them twice daily waning, the migrant workers are on their way back to their villages in Bihar, Uttar Pradesh, Jharkhand, Odisha, Chhattisgarh, West Bengal among others.
The spokesman said these labourers are extremely angry with the way they were shabbily treated in the states where they worked for a long time. They have been left in lurch by their employers and even the respective state governments also failed to come their rescue. There is no doubt these migrants are major workforce in all types of economic activities and if they decide to not to go back after the Coronavirus crisis is over the industrial and other socio-economic activities will suffer. The spokesman said that the state governments, industrial and other formal sectors as well as civil society should make efforts to regain the trust and confidence of this huge workforce, which is backbone of our economy.
Share via