New Delhi, May 18 (DN&V): The Odisha government has asked the central government to suspend the Shramik special trains to evacuate migrant labourers for three days given the threat posed by the Cyclone Amphan, which is to make a landfall along the Bay of Bengal coast on Wednesday. The Indian Railways said the trains will bypass the Bhadrak-Balasore-Hijli track for three days.
Cyclone Amphan may cross West Bengal-Bangladesh coasts between Sagar Islands (West Bengal) and Hatiya Islands (Bangladesh) in the second half of May 20, said the Indian Meteorological Department. In a statement released on Sunday, the IMD said the cyclone has moved northwestwards with a speed of 6 kmph from Bay of Bengal and is likely to intensify into a "very severe cyclonic storm" during the subsequent 12 hours.
Odisha, which in the last few years has significantly improved its cyclone preparation mechanism, is targeting "zero casualties", chief minister Naveen Patnaik said. The state special relief commissioner, P K Jena, said it was ready to evacuate as many as 1.1 million people if required. Twelve coastal districts — Ganjam, Gajapti, Puri, Jagatsinghpur, Kendrapara, Bhadrak, Balasore, Mayurbhanj, Jajpur, Cuttack, Khurda and Nayagarh — are on high alert.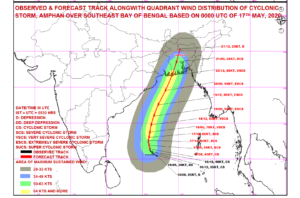 Migrant crisis: The cyclonic threat adds to the unprecedented woes faced by India's inter-state migrant labourers, who, desperate to reach their home states, are resorting to perilous journeys atop commercial trucks. On Saturday, 26 people were killed after two trucks ferrying migrant labourers alongside industrial goods collided at Auraiya, Uttar Pradesh. 134 migrant workers and their family members have died in accidents during the 54 days of lockdown, even as union railway minister Piyush Goyal triggered a political war of words by blaming opposition-ruled state government for not requesting the required number of special trains. On Sunday, Sitharaman too blamed state governments for not requesting enough trains.
Share via