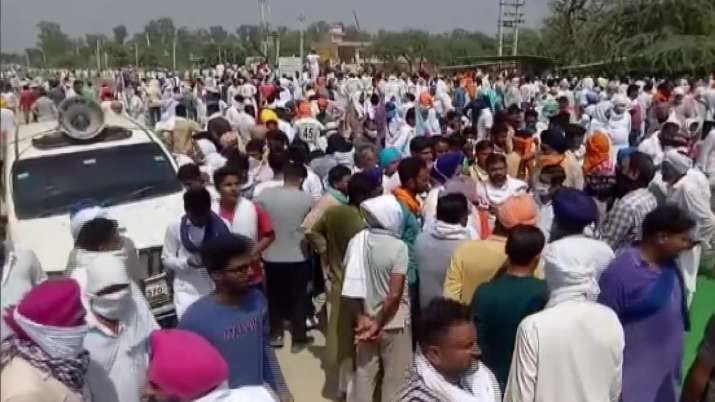 M Hasan
Lucknow, December 09: The ongoing farmers agitation is reminiscent of similar siege of Delhi in 80s (October 1988) when thousands of farmers led by Mahendra Singh Tikait had stormed the national capital. With Rajiv Gandhi winning 404 Lok Sabha seats (like BJP 303 presently) he had refused to listen to the problems of farming community resulting into entire opposition joining hands with the farmers. Interestingly the farmers, government and opposition seem to have taken leaf out of 1988 stir.
Even though political fallout of continuing farmers agitation, which is apparently Punjab-Haryana-centric with some support from West UP, on 2022 assembly elections in UP is too early to assess, the stir has provided some fodder to the morbid Opposition in the state. The farmers organisations in UP which were lying dormant during the last few years have also got oxygen to revive themselves. The Tikait -led week-long dharna had however forced the Rajiv Gandhi government to accept the demands of farmers. It had also caused political consternation for the then chief minister Bir Bahadur Singh.
Since there was no "Mandalization" of UP politics then, all caste unified farmers organisations were powerful in both western and eastern parts of the state. Post Mandal commission implementation, the scenario has changed drastically with caste politics mainly in western UP badly affecting the farmers organisations. The death of Mahendra Singh Tikait in May 2011 had however further eroded the power of these organisations. It was at Tikait's insistence that all political leaders, including Devi Lal, the tallest Jat leader of that time, were disallowed from appearing on platforms of the BKU. Political leaders of various opposition parties were welcome to offer moral and political support, but not permitted to either grace the dais or address agitating farmers. Likewise, farmers' groups under the banner of BKU between 1986-1989 kept politicians at arm's length.
There is no doubt that Opposition in UP which has been making efforts to push "rising crimegraph" as main political agenda would now also take advantage of the farmers crisis to harp on this issue. However it is politically hazardous to guess their success rate. But sure, it may become a talking point in the run up to the election 2022 in the next one year. Will the UP's dominant caste-communal politics be able to douse farmers fire is to be watched curiously in 2021.
Share via