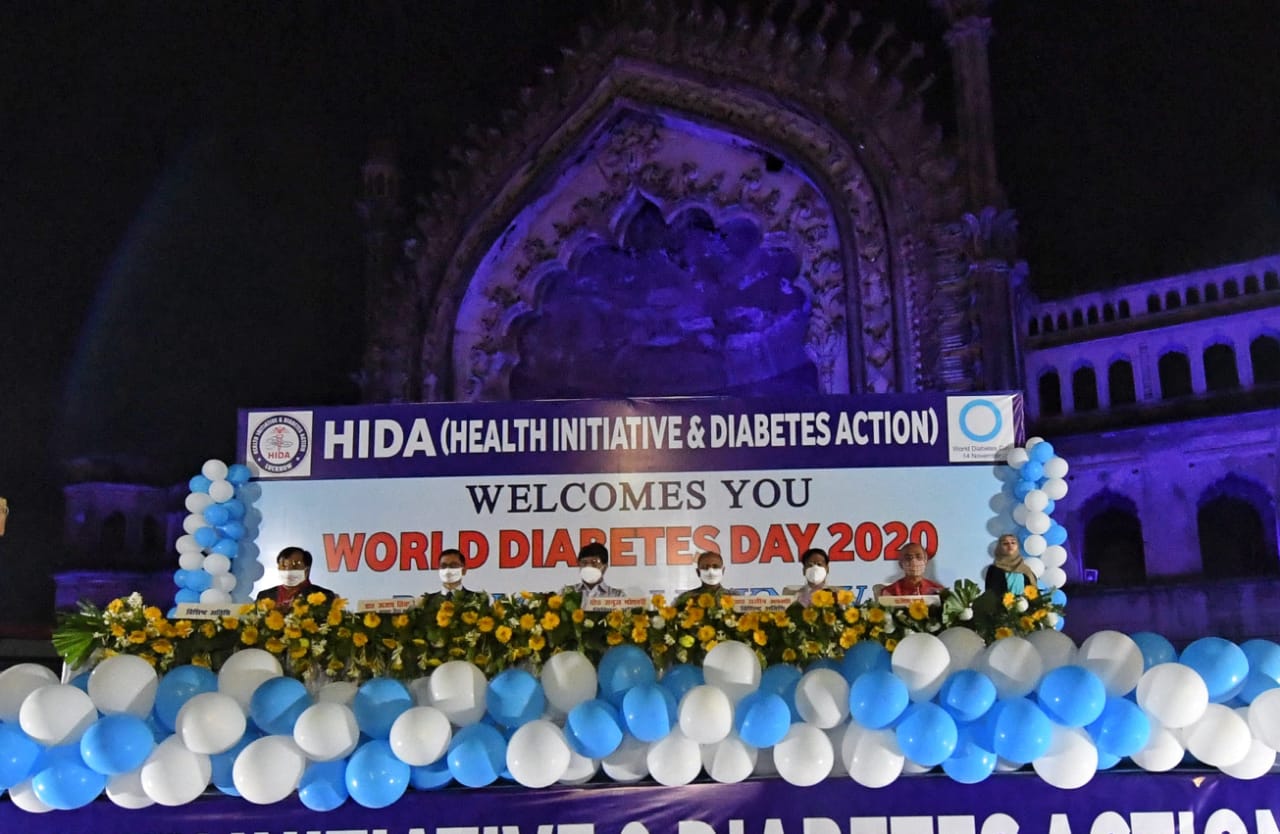 Daily News and Views Correspondent
Lucknow, November 13: In order to create awareness among the people, the Health Initiative and Diabetes Action (HIDA) headed by Dr Ajoy Tewari, Director Jai Clinic and Diabetes Care Centre, Lucknow, today organized a program at historical Rumi Gate at Bada Imambara, Lucknow. The well-attended program was inaugurated by Mayor of Lucknow Mrs Sanyukta Bhatia.
Every year international diabetes federation leads the world initiative against diabetes by illuminating iconic monuments of the world. Dr Tewari said HIDA took the initiative to illuminate Rumi Gate – the iconic monument of Lucknow to stand with the world community in this fight against diabetes.
Dr Tewari said there were 88 million diabetes patients in India and nearly 56.7% did not know that they are diabetic. He said every sixth patient of diabetes in the world is from India. Dr Tewari said there were at least 31 million pre-diabetic people who can be saved from diabetes by adopting good lifestyle, balanced diet and exercise like jogging, cycling and other sports. Dr Tewari further said in a study, Diabetes Prevention Program, it was found that by mere 5% reduction in weight, there was a 58% reduction in the conversion to frank diabetes.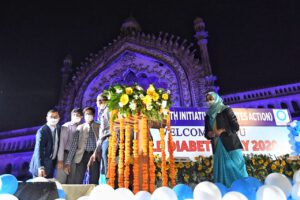 Healthy lifestyle is more important in current Covid scenario, as diabetics are more prone to serious complications.Healthy lifestyle, exercising indoors like static cycling, skipping , mindful eating and checking blood sugars regularly should be the norm.
Dr Tewari said in a study conducted at Jai Clinic Diabetes Care Center Lucknow it was found 30% of diabetic patients were affected by kidney ailments and 25% to 28% by heart related problems. Moreover, blindness is also major reason among old diabetic patients. After accident diabetes is the number one reason for foot amputation among diabetics, Dr Tewari added.
Dr Tewari said in view of serious crisis awareness among people is necessary to protect the people. He said every year International Diabetes Foundation (IDF) observes World Diabetes Day on November 14 which is aimed at creating awareness about diabetes among the people. He said through various programs people are made aware of about safety from diabetes, control and health problems erupting from it. Dr Tewari called upon the people to join the efforts about awareness and prevention of diabetes.
Share via