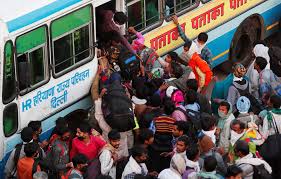 New Delhi, May 22 (DN&V):The country reported its biggest daily increase in the number of new cases, crossing the rubicon of 6,000 cases, just a few days before the resumption of flights from Monday which has raised the possibility of a further spurt in new cases on a daily basis.
However, the rise in the number of cases may be a pointer to India approaching its peak, which, according to several studies, should occur in June or July. According to the Public Health Foundation of India (PHFI), at the current rate, with the expectation that lockdown will be completely lifted after May 31, India's peak should occur in mid-July. The study in fact banks on a lower surge rate, given that people emerging from the lockdown will still have a fear factor that will not only compel them to take all precautions such as wearing protective gear, but also limit their outings.
An earlier analysis by the director of All India Institute of Medical Sciences (AIIMS) in Delhi, Dr Randeep Guleria, also reached the same conclusion that India's peak could occur in June or July even as the number of new cases continued to increase at a linear, rather than an exponential rate. Part of the reason why India is witnessing new records in daily increase of new cases is the ramp up of testing to more than 1 lakh a day, which is about 20 times more than what it was in the beginning of April — and as its testing capacity rises, more cases are bound to come to light.
Share via