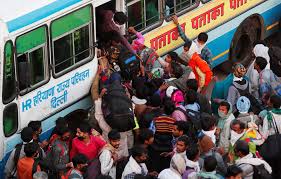 DN&V Correspondent
Lucknow May 19: With lockdown- 4 underway from May 18 to May 31, the Log Party today laid stress on pragmatic and bold action to get to work. The Log Party said the nation would have to overcome the fear as medically the pandemic is going to be long-drawn fight with massive improvement in country's health infrastructure.
The spokesman of the party said here on Tuesday that in the fourth lockdown many economic activities have been permitted with certain safeguards. The spokesman said while migrant labourers should be allowed to reach their hometowns, thrust should be on mitigating their sufferings. The corona pandemic has brought one thing to the fore that country's health services required to be vastly improved. The spokesman said that it is estimated that nearly 15-20 crore people are sitting at home without any avenue of productive economic activity. Certainly, this situation is not sustainable for long and some well-considered and bold decisions have to be taken to pull the country out of this state at the earliest.
The spokesman said no doubt the lockdowns have served the purpose, but now the country has to focus on the economy. Daily wage earners are on the verge of starvation, the number of unemployed has reached an all-time high and supply chains are completely disrupted. To reverse the situation, all economic activities need to be opened up except cinema halls, sports, educational institutions that can open after some time. Restrictive opening is not helping the cause. People have fully understood what they need to do to prevent getting infected, now they should be tasked to follow the necessary precautions at their workplace. Testing and treatment facilities for all those showing symptoms have to be ensured in all government and private hospitals.
The spokesman said that the central government has lost nearly Rs 3 lakh crore by way of revenue and states nearly Rs 2 lakh crore that will need to be recouped by borrowing from RBI directly, so that the government system comes back to its optimum health. Businesses, small and big, will need to be provided loans for their working capital requirements without any delay. The labour force is desperate and eager to go back to work. They have survived the worst.
Share via