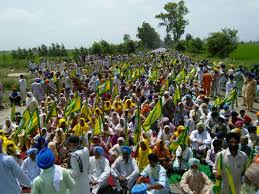 Daily News and Views Correspondent
Lucknow, September 18: The Log Party today said that resentment among farmers for agrarian crisis is justified because the NDA government has totally failed to address their genuine grievances during the last six years. The Log Party said the NDA Government has now been making tall claims that Farmers' Produce Trade and Commerce (Promotion and Facilitation) Bill, the Farmers (Empowerment and Protection) Agreement of Price Assurance and Farm Services Bill and the Essential Commodities (Amendment) Bill would help solve their all agrarian crisis. However the farmers have by and large refused to accept the arguments of the government because of the past experiences.
The spokesman of the party said that there is widespread discontent among the farmers and the government, which has rushed through the legislation should look into their grievances instead of bulldozing their demands. The spokesman said that farm sector is in dire distress with rising cost of input and low return. The spokesman said even cash dole out have not been able to help solve farmers problems and the BJP's promise of doubling the income of farmers has failed to take off and now the NDA leaders are not talking about the farmers crisis. The spokesman further said that misleading tactics of the NDA government will not work by misleading slogans. He said the distress sale of product by farmers despite minimum support prices has assumed serious dimension.
The spokesman said prevailing farmers unrest is the result of years of governmental negligence and an attitude of quick fix solution to help them out of crisis temporarily. The spokesman neither the previous UPA nor the NDA government ever took a holistic view of solution to their distress. The spokesman further said farmers are most vulnerable community depending on various natural and man-made forces for sustenance. While over the years the input cost of the farm produce has drastically gone up, there has not been matching increase in sale prices which has forced the community into debt, the spokesman said and added in the other sector market players are able to fix the prices of their production, but the farmers are always dependent on the government remunerative prices which are mismatch.
Share via