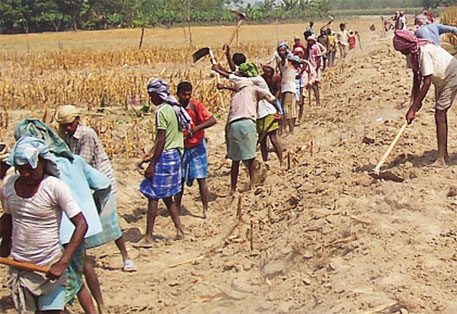 DN&V Correspondent
Lucknow, May 29: With unemployment crisis assuming menacing dimension in Uttar Pradesh, the Log Party said today that just banking on MNREGS would not help solve the problem. The Log Party said apart from rural areas where migrant labourers from several parts of the country have returned and have added to further unemployment, the problems of workforce in urban areas cannot be side-tracked where there are massive losses of jobs because of closures of industrial units due to pandemic.
The spokesman of Log Party said here on Friday that fate of urban labourers also hangs in balance as both medium and small-scale industries, real estates and other sectors are in distress following two-month of lockdown. The spokesman said both formal and informal sectors are under unprecedented pressure and only depending on central government's supported MNREGS to manage the crisis will not be possible. The state government will have to find out other avenues to overcome the crisis, the spokesman said and added in pre-pandemic time unemployment problem in UP was very acute, which has further worsened after the arrival of nearly 25 lakh plus labourers from other states. The spokesman said so far around 9.50 lakh new labourers have registered themselves with village panchayat for MNREGS job cards and nearly 4 lakh cards have been issued. The spokesman said already existing inactive card holders have also started pressuring for rural jobs. The spokesman said the creation of jobs under MNREGS has also become difficult as over the years availability of work has come to an end.
The spokesman said as against the standard of 100 days of work for each worker, UP has not been able to achieve the target of more than 45 days with a payment of Rs 201 per day. The corruption in this scheme with the collusion of village pradhans and other officials are also not a hidden fact. The spokesman thus said that efforts should be made for revival of medium, small and big industries with assurance of no job loss. Just making tall claims would not help solve the crisis, the spokesman commented.
Share via