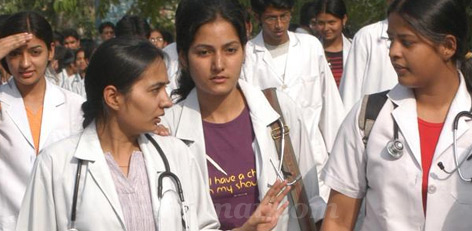 Daily News And Views Correspondent
Lucknow, June 10: The Log Party today expressed concern over poor medical infrastructure which has been badly exposed by spread of coronavirus pandemic in the country. Log Party said the central and state governments would have to pay extra attention to medical sector with increased financial layout to prepare the nation for such types of crisis.
The spokesman of Log Party said here on Wednesday that as compared to other countries the spread of virus in India has so far been less but the stress on existing medical infrastructure has indicated shortages of all kinds of medical infrastructure. The spokesman said while makeshift hospitals had to be set up though most public hospitals are catering to coronavirus patients, an acute shortage of doctors, nurses and other paramedics is also being felt across the country. The spokesman said in India availability of doctors per thousand population does come close to the World Health Organisation's prescribed doctor-patient ratio of 1:1000 if we include all the registered allopathic, homeopathic, ayurvedic and unani doctors. But the number of doctors who practise is much lower. Unless we increase the ratio to the level of better performing countries on the health front, poor people in India will continue to suffer, the spokesman said.
The spokesman said while in urban areas some facilities are available, the rural areas are worst affected with primary health centres poorly equipped. The prevailing situation in villages have forced the people to rush to urban centres even for minor ailment. The spokesman said the government will now have to give thrust to smaller districts to reach out to vast rural population.
The spokesman said shortages in medical seats still existed and students are, according to one estimate, collectively made to pay nearly 15,000 crores in capitation fee. Thousands of others line up to seek admission in countries such as China, Russia, Australia and many others, paying millions of dollars. We have seen this annual loot of thousands of crores for too long and made our people and students suffer. Time has come that we reform the medical education system, end the pervasive corruption in these regulatory institutions and ensure that we carry out the expansion in such a way that we produce the required number of doctors to look after our population.
Share via