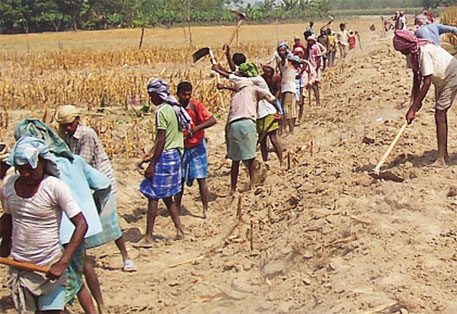 DN&V Correspondent
Lucknow, June 04: The Log Party today said that the demand for work under rural guarantee scheme-MGNREGS- during last May in several states specially in Uttar Pradesh has given enough indication about acute economic distress in villages. The Log Party said with mounting pressure of jobless youth, coming from their host states to home states, the situation has worsened further.
The spokesman of Log Party said here on Thursday that it is for this reason there are reports of migrant labourers started going back to their workplaces. The spokesman said despite continuing spike in spread of corona virus, indications are that departure of workers from home states would increase, as there is a feeling that states like UP would not be able to sustain the vast numbers of unemployed youth under MGNREGS. The spokesman said that recent edition of Economic Survey observed that the MGNREGS offers and early indicator of rural distress. Pointing out that rural India is in trouble, the spokesman said in May around 2.19 crore households utilised the scheme which is highest in eight years with the largest numbers from UP and West Bengal. The spokesman said since non-form sources of income has been badly affected, the NREGS is in demand to mitigate hardship. However just one scheme will not be able to solve the crisis, the spokesman said and added 57% average household's income comes from non-farm sources.
The spokesman said in view of rampant corruption in this scheme involving village pradhans and other lower level government employees there is need to further administratively tighten its implementation. Just claiming that wages are going directly to labourers account is not enough as village level implementation agencies have devised ways to scuttle it to siphon off the money, the spokesman said and added as of now there is no honesty and transparency in the implementation of the scheme at village level. The government should look into it, the spokesman said.
Share via