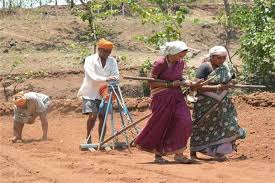 Daily News and Views Correspondent
Lucknow, September 23 : The Log Party today said the state government's policies for development in villages are lopsided and it has only resorted to misleading sloganeering on the issue. The party said there has been hardly any improvement in the condition in rural areas during the last three years which are groaning under the heel of immense problem with corrupt lower level official machinery fleecing the poor people to provide basic amenities. The party said pandemic has further worsened the situation in villages.
The spokesman of the party said here on Wednesday that villagers are facing difficulties as the corruption-ridden official system is not ready to deliver facilities without taking bribe. Pointing out that government's claim of "development in every village" is just on paper and an eyewash, the spokesman said and added the ground realities are worst. The poor people are living in most despicable condition. The spokesman said there is loot in the name of providing money for the construction of houses and allotment of land pattas to poor people as a state-wide nexus of ruling party politicians and officers is working to mint money. The spokesman said Log Party has come across with large number of complaints from poor people about the pradhans and officials demanding money from poor people for pattas. The racket is flourishing unchecked under political patronage, the spokesman commented.
The spokesman said the priorities of the UP government are in fact directionless as the rural areas are in need of urgent attention where the BJP government has not improved infrastructural facilities during the last three years. The spokesman said the farming community facing acute problems on various fronts is feeling cheated with the BJP government which had promised to alleviate their sufferings. The Log Party is of the view that there is an urgent need to take a holistic view of the farmers issues and address them effectively.
Share via