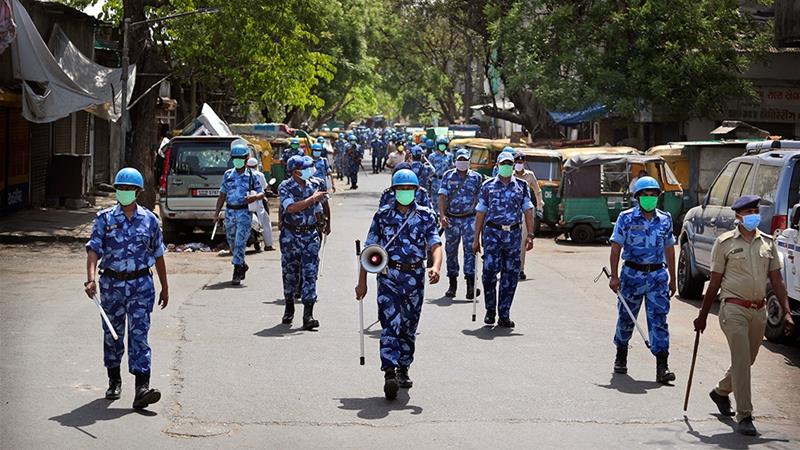 DN&V Correspondent
New Delhi, May 07 The country has crossed grim Covid-19 case scenario — crossing the 50,000-mark overall and breaching 3,000 in its daily tally for the first time during last 24 hours. With 3,602 new patients — the biggest in a day since the outbreak of the pandemic — the total number of positive cases in the country have gone up to 52,935. Alarmingly, while it took five days to cover the distance from the 30,000-mark (breached on April 28) to the 40,000-mark (May 3), the next 10,000 cases in the country were added in just three days.
Maharashtra recorded 1,233 fresh cases, taking the total to 16,758. The state reported 34 deaths, taking the toll to 651. Maharashtra alone accounts for 36.6% of the total 1,777 casualties in India so far. Delhi recorded the maximum number of cases in a day — at 428 — taking the total number of Covid-19 patients to 5,532. With one more death, the toll in the Capital now is 65.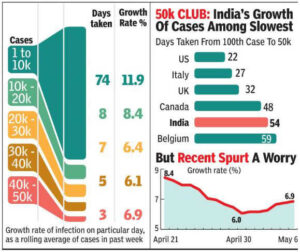 India's active Covid-19 cases are growing faster at 6.6% now, leading to a shorter doubling time of 11 days, compared with 15 days on May 2 when the growth rate for such cases was 4.8%, data analysis by economist Shamika Ravi, earlier part of the Prime Minister's Economic Advisory Council, showed. The trend is driven by rising concerns regarding states like Maharashtra, West Bengal, Gujarat, Delhi and Tamil Nadu where the infection is at worrying levels, mortality rates are increasing and there is no specific strategy for contact-tracing and testing, she added. Pointing to varying rates of testing, Shamika said in Kerala's Kasargod district when 100 people came out positive, 20,000 samples were tested while in Mumbai 6,000 samples were tested against 100 positive cases. According to her, there is a big second wave in several states with growing concerns in Gujarat, Delhi and Tamil Nadu, along with Maharashtra where the caseload is alarmingly high. "It is a combination of containment, contact-tracing and testing that will help flatten the curve. If containment and contact-tracing is poor, active cases will keep rising," she added. So far, the government has said the doubling rate is rising with the figures taken for all cases and not only active ones as in Ravi's analysis. During April 25 to May 5, the national Covid-19 death rate per million was 1.31, whereas both Maharashtra and Gujarat have more than 5, according to Ravi's analysis.
The World Health Organization is in talks with China to send a follow-up mission to the country to investigate the animal source of the coronavirus pandemic, said Maria Van Kerkhove, head of WHO's emerging diseases and zoonosis unit. WHO officials previously said the coronavirus emerged from a seafood market in Wuhan, China, and likely originated in bats, then jumped to an "intermediate host" before infecting humans.
Share via