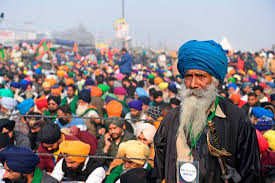 Daily News and Views Correspondent
Lucknow: Former Secretary to Government of India Vijay Shankar Pandey (ex-IAS) and former IPS officer SN Singh said in a statement here today that a meeting of former senior officers of Uttar Pradesh and prominent persons from various fields was held to discuss the issue related with the farmers. The former officers have called upon the farmers to continue their stir for the repeal of the three law and also press of ensuring MSP for their produce/ The meeting took following decisions:
(i) To extend support the farmers agitation in the country against the three farm Bills;
(ii) To stand in support of the Uttar Pradesh Kisan Mazdoor Morcha comprising of Sardar VM Singh and all other farmers organisations which have taken up issues concerning the plight of the small and marginal farmers and are agitating at the village level for repeal of the three farm Bills and for passing of a legislation on MSP as the floor price for sale all over the country and anyone buying for less than the MSP shall be prosecuted. It was also decided to support the farmers agitation programme in villages as below-
a) 5 farmers will sit on Anshan from 9 am to 5 pm;
b) 11 am: giving information regarding the farm Bills to farmers;
c) 3 pm: send message to the PM from every village;
d) Since the Prime Minister Narendra Modi has announced on various platforms including the Parliament about the continuation of MSP, the dharna should continue till purchase of wheat from all the farmers on the MSP fixed by the Government.
e) MANREGA to be linked with agriculture;
f) Fixation of sugarcane price Rs 450/ per quintal.
We would extend all possible help in ensuring that Clause (d) sees the light of the day. Former civil servants and other prominent persons will be deputed as an observer for cluster of Districts who would provide all the help and guidance to ensure that every grain of wheat of the farmers of the village is purchase at MSP rate.
The meeting further said these functionaries would interact with the District Magistrate and other officers to ensure that the middlemen are eliminated and every single penny of the MSP at Rs 1975 per quintal goes into the pocket of the farmer.
It was said at the meeting also They will interact with the UPKMM and other farmers associations and bodies and visit the Districts from 15th of March and take stock of the situation in villages and endure with the support of the district administration for the sale of the produce.
Share via