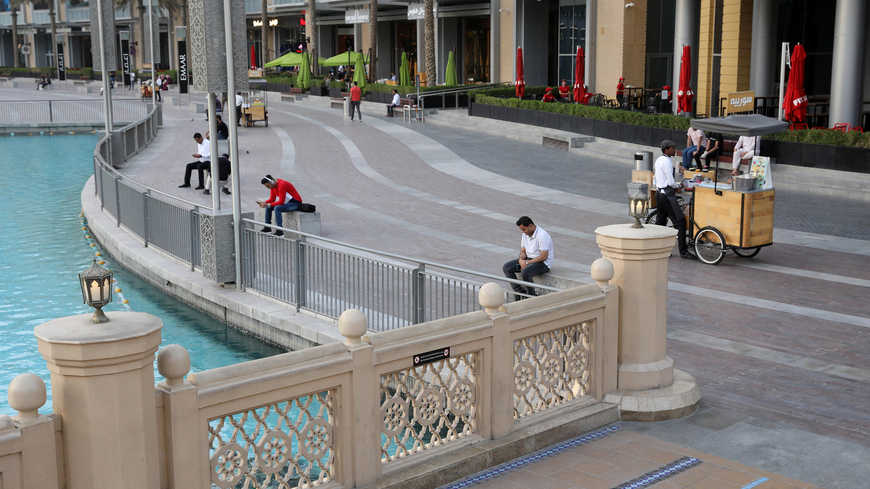 Dubai residents are now allowed to move about freely as of April 25 between 6 a.m. and 10 p.m., according to a directive from Dubai's Supreme Committee of Crisis and Disaster Management.
The committee announced that the directive, "which coincides with the start of the Holy Month of Ramadan, allows increased freedom of movement while ensuring the continuation of strict precautionary and preventive measures."
The committee has a new set of guidelines on movement and a list of exempted commercial activities and vital sectors. The change comes after nearly four weeks of one of the most stringent policies to prevent the spread of the novel coronavirus that included a city-wide disinfection campaign and a curfew from 8 p.m. to 6 a.m., during which residents needed government-issued permits to leave their houses.
Then followed a 24-hour curfew for Dubai, but not Abu Dhabi or the rest of the United Arab Emirates.
The easing of the lockdown comes on the first day of Ramadan, the holy month when Muslims around the world fast from dawn to sunset. After 6 a.m. and until 10 p.m., residents will be allowed out for essential grocery and medicine purchases, while essential workers will continue to work during the curfew.
However, the committee stressed that outlets and shops must adhere to health and safety instructions. The precautionary measures include not allowing in more customers than 30% of the venues' total capacity, maintenance of at least two meters' distance between customers in order to contain the spread of COVID-19. Despite the very strict rules, many Dubai businesses welcomed the news.
Maria Dowling, the owner of one of Dubai's top hair salons, told Al-Monitor, "Before the government told us to close, I decided to shut my salon on my own as it was not good for my team and my clients." This was more than a month ago. Two days later, the Dubai government closed salons and all other non-essential businesses in a citywide shut down.
"The fear and emotions of how we were going to sustain and for how long, and would we ever be going to go back to work or be able to afford to stay in business was very stressful," she added.
"We tried to sustain our revenues with online product sales and gift cards for future services, but it was not nearly enough. We spent Friday and Saturday sterilizing our salon and opened at noon on April 26, as per the government directive. We are allowed 30% staff, which for us is around five people. Clients are two meters apart. We have to sterilize the entire place before and after each and every client. Masks have to be worn at all times and clients' temperatures are to be taken when they enter. I have been in business for 18 years with my own salon and I have never seen anything like this. The stress and strain has been enormous. But it is happening around the world, so I can't say we are alone," Dowling added.
The popular home-grown Dubai business Boom and Mellow feels this strain. Although Sima Barazi Haroun's boutique has been selling its wares online during the lockdown, the owner told Al-Monitor that online sales are only about 10% of the company's business. Staying open, especially during Ramadan, is very important for the boutique, which sells bespoke items from unique jewelry to home items.
"Although this is good news, we don't know what to expect. We don't know if people will even want to go out for groceries, let alone to shop at a boutique for non-essential items. But then again, women want to feel good and they want to lift their spirits. They enjoy retail therapy, something to make them smile, which is what our bespoke boutique offers," Barazi Haroun said. "Also, during Ramadan many people like to gift each other, and we carry many home gift items that are one of a kind. We are getting orders online and are being asked to send them over to friends and family."
But some residents are still worried and say they will continue to self-quarantine. Many were concerned with the number of ongoing COVID-19 cases in the UAE. According to the World Health Organization's Worldometer website, cases in the UAE are still on the rise, with 10,839 confirmed as of April 27. However current deaths stand at 82, meaning a mortality rate below 1%. And the Gulf states have been praised for their testing policies.
Melanie Gissing, a British expat who has been living in the UAE for 20 years, said, "We as a family are very happy to be able to go outside to exercise and walk the dog within our community. However, we will still avoid malls and restaurants for the next few weeks."
German expat Anja Trespe, who has been living in Dubai since 2018, said, "With a family of three very active boys under 10 (plus a husband), we are more than happy that we can go outside to do some sports and work out. This will also ease concentration during homeschooling/home office. Nevertheless, we will not go to malls within the next weeks."
Malls are a big part of Dubai culture. With high temperatures year-round in the Gulf state, malls are like town centers where shopping, restaurants and leisure activities are literally under one roof. While many residents are still concerned about going to malls and public places even with the strict rules, the region's largest lifestyle provider, Majid Al Futtaim, welcomed the news.
According to a statement given to Al-Monitor, "Complying with the policy announced by the UAE government, Majid Al Futtaim shopping malls will maintain an occupancy ceiling of not more than 30% of the mall's common and gross leasable areas. In accordance with the rules issued by government authorities, all mall visitors must wear masks at all times, sanitize their hands prior to entering the mall, avoid public gatherings, limit visits to a maximum of three hours per day and ensure a physical distance of at least two meters from others at all times. In addition, in accordance with the rules issued by the authorities, persons over the age of 60 years and children aged between 3 and 12 years will not be permitted to enter the mall."
Social customs and traditions are a very important part of the holy month of Ramadan. The Dubai rules permit residents to visit first- and second-degree relatives. However, gatherings are restricted to no more than five people and the government discourages visiting individuals who are high risk, including those over the age of 60 with underlying medical conditions. Ramadan tents and Majilises (Arabic meeting rooms) are not allowed at private homes or in public places.
Many Dubai residents say they will still adhere to most of the rules in place before the restrictions were lifted, fearing that they will be loosened only to be restored. The challenge that lies ahead for Dubai is to stop people from taking their newfound freedom too far. (Courtesdy Al-Monitor)
Share via