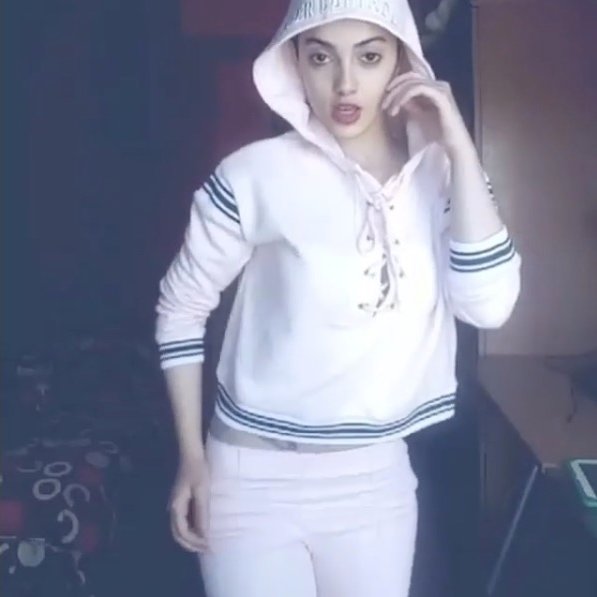 Teheran: After the Iranian authorities arrested Instagram dancer Maedeh Hojabri and forced her to confess to violating "moral norms" on state television, Iranians have begun posting their own dancing videos to show support.
The teenage Hojabri was among a number of Instagram users who were arrested and forced to confess. In the confession video, she says she did not work with any "team" or receive any type of training but made the videos mostly for her followers on Instagram. She had over 600,000 followers before her arrest. Immediately afterward, her videos of her dancing solo to Iranian and Western music, presumably in her own bedroom, went viral on social media.
The arrest — or perhaps the forced confession on Islamic Republic of Iran Broadcasting (IRIB) in which the girl, face blurred but visibly crying — struck a nerve among Iranian social media users, who began posting their own personal videos dancing in solidarity. Men and women of all ages posted their videos with the hashtag that can loosely be translated as "Let's dance."
Others criticized the Iranian judiciary over its priorities. One social media user tweeted, "Likely the judiciary confronted Maedeh Hojabri in order to prevent the deviation of the youth and prevent the collapse of the family. If only they knew that the deviation of the youth, their irreligiousness and flight from religion is [due to] the lack of confrontation with the politically and financially corrupt."
Some exiled Iranian opposition figures called for the sanctioning of the IRIB for the forced confessions. One letter to US Secretary of State Mike Pompeo read, "The radio and television of the Islamic Republic continues to violate human rights with the broadcasting of forced confessions."
The forced confession had its domestic critics as well. Mohammad Amin Salimi, the secretary of the conservative Council for Determining Basij Student Positions, wrote on Instagram, "I do not approve of what this lady has done … but the problem is the confrontation of some officials with this issue." He criticized state television for creating an "educational documentary about the dancing of a young girl" when it has not put in the same effort regarding economic issues and other concerns of the public.
In other news, former President Mohammad Khatami, who is under an official media ban, met with young Reformist activists and discussed some of the nation's problems. He warned about the pervasiveness of corruption, saying, "Corruption is an issue that does not recognize Reformists or conservatives." Khatami stressed the need to "save Iran" and urged Reformists to work with any group it can to bring about the necessary changes.
Khatami also addressed the case of Sepanta Niknam, a Yazd City Council member who was suspended after a conservative candidate lodged a complaint that a member of a religious minority should not make decisions for the Muslim-majority citizenry. Iran's constitution not only recognizes the Zoroastrian, Jewish and Christian faiths; it also designates parliamentary seats for them so that the minority communities have representation. 
According to the Iranian media, the Expediency Council rejected Niknam's suspension and reinstated him. However, the affair was a major controversy with the head of parliament and the president expressing their support for Niknam. Khatami said that these issues were addressed by Iran's senior clergy a hundred years ago, lamenting, "We've fallen 100 years backward."
Khatami's media ban was instated after his support for the 2009 Green Movement protests. A recent Fars News report included a picture of Khatami, though the image was later changed to a blurred and out-of-focus one. (Credit article: Al-Monitor)
Share via