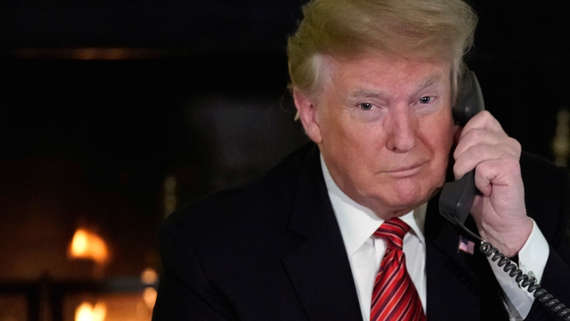 Laura Rozen (al-monitor.com)
WASHINGTON — President Donald Trump Thursday urged Iran to call him, and said the United States and Iran could make a fair deal.
"What I would like to see with Iran, I'd like to see them call me," Trump told pool reporters on the sidelines of an event in the White House on surprise medical billing.
"What they should be doing is calling me up, sitting down," Trump said. "We can make a deal, a fair deal."
Trump's overture to Iran for talks came amid heightened tensions, four days after Trump's national security adviser, John Bolton, said the United States was speeding up the movement of a US aircraft carrier, the Abraham Lincoln, to the region to deter against an alleged threat that Iran or Iranian-backed proxies could be planning to strike US targets in Iraq. It also followed Iran's announcement Wednesday that it would suspend some caps on its stockpile of nuclear fuel and heavy water as leverage to try to get benefits from the nuclear deal.
Trump, asked if he thought there was a heightened risk of conflict, said he hoped not.
"I guess you could say that always, right? … I don't want to say no," Trump said. "But hopefully that won't happen."
He did not specify the alleged threat intelligence that prompted the movement of the aircraft carrier to the region, but said he hoped not to use it.
"Well, they were threatening," he said. "We have information that you don't want to know about. … We have to have great security for this country and for a lot of other places. We have one of the most powerful ships in the world that is loaded up, and we don't want to have to do anything."
Trump also accused former Secretary of State John Kerry of having told the Iranians not to talk with the Trump administration, a charge a spokesman for Kerry subsequently told MSNBC's Rachel Maddow was baseless.
"John Kerry speaks to them a lot," Trump said. "John Kerry tells them not to call. That is a violation of the Logan Act."
"Everything President Trump said today is simply wrong, end of story," a spokesman for Kerry told Maddow. "He's wrong about the facts, wrong about the law, and sadly he's been wrong about how to use diplomacy to keep America safe."
Trump said, "What they should be doing is — their economy is a mess ever since I took away the Iran deal. They have inflation that is the highest number I ever heard. They are having riots every weekend. …
"We just don't want them to have nuclear weapons," Trump continued. "It is not too much to ask. And we would help put them back into great shape. They are in bad shape right now."
"I look forward to the day where we can actually help Iran," he said. "We are not looking to hurt Iran. I want them to be strong and great and have a great economy."
"But they should call," Trump said for a third time. "If they do, we are open to talk to them. We have no secrets. And they can be very, very strong financially, they have great potential. Very much like North Korea. … And I don't think he is going to blow that."
Trump's overtures for Iran talks were deeply at odds with the tone and substance of much of his national security team, particularly Bolton.
"There is intel every day of random shit from Iran. Mostly junk," a former US official who worked in the Trump administration, speaking not for attribution, told Al-Monitor. "Bolton turns every strand into Gulf of Tonkin."
"We are pressuring Iran with a policy that sees pressure as an end in itself," the former official continued. "The Iranians may well react, which then provides casus belli to these nuts."
The United States may also be perceived by Iran to be taking a series of actions, such as covert support to anti-Iran groups in Iraq, that some Iranian group or Iranian-inspired group may see as provocative and generated chatter of a potential response.
Secretary of State Mike Pompeo accused Iran in a statement today of engaging in an "escalating series of threatening actions and statements" in recent weeks, and warned the United States would retaliate if US citizens or interests are attacked.
"The response of the United States and our partners and allies has been clear: We do not seek war," Pompeo said in a statement. "The regime in Tehran should understand that any attacks by them or their proxies of any identity against US interests or citizens will be answered with a swift and decisive US response. Our restraint to this point should not be mistaken by Iran for a lack of resolve." (Courtesy: al-monitor.com)
Share via