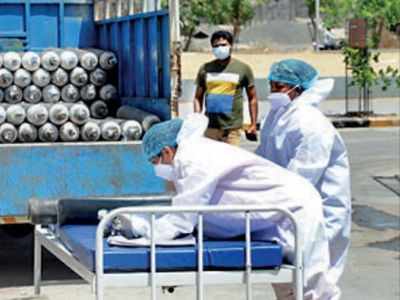 With the current surge, our health system has crumbled, leading to panic. These shortages are all man made and should have been overcome without much difficulty.
V.S.Pandey
India is at present reeling under a massive surge of corona virus cases. Today the fresh case tally has reached beyond 2.50 lakh mark and is likely to surge even further as the experts say. Our medical facilities are already overwhelmed with the number of patients requiring hospitalization. In addition to that, shortage of oxygen, drugs like Remdesivir, ICU beds etc. are being reported from various states which are the worst affected. Amongst all this, there is a panic like situation fuelled by reporting by various media outfits and some irresponsible news coverage in leading newspapers and this continues unabated. This has exacerbated the prevailing panic amongst the population.
There are clear signs that the covid virus responsible for the current spike is more infectious and seems to be deadlier than the earlier one. Therefore, the only option available with the nation, governments and people is to do everything possible to contain the spread and to provide the best kind of treatment possible to everyone who gets infected with this virus. Fortunately, unlike the corona peak last year, we have the facilities available to carryout various kinds of tests, remedies and detailed information regarding the various mutants of this virus available with us now, not only to save lives of our people but to manage the pandemic effectively. Currently, we have several vaccines also available in our armoury, to not only contain its spread but also to save lives. India, having the distinction of being the biggest manufacturer of vaccines, is in a unique position to ensure vaccination of not only its own population but also of millions around the globe and provide a shield against this virus.
In this context, the present situation of an overwhelmed healthcare system, shortages of oxygen, medicines, hospital beds, etc. are just not acceptable and governments have to answer to the people. One year into this pandemic, governments of all the states and the central government, put together, should have tightened up and should have been in a position to handle any eventuality. But, unfortunately, that was not to be. With the current surge, our health systems started crumbling, leading to panic situation in many states. These shortages, undoubtedly, are all man made and should have been overcome without much difficulty. But when people tasked with controlling the situation are busy furthering their own political agendas, it was inevitable that people will be at the receiving end of this kind of wilful mismanagement and apathy. Delhi, like some other states, is witnessing one of the worst examples of mismanagement on the part of the government with people running from pillar to posts in search of hospital beds . However, Mr, Kejariwal seems to be busy ,spending crores and crores of rupees on media advertisements with himself appearing in TV advertisement dozens of times in a day on all the prominent national news channels. Has anybody questioned Mr. Kejariwal , ''when you are the Chief Minister of solely a city state like Delhi , then who allowed you to spread your propaganda all over India'' with captions like "Dilli ki Sarkar – Aap ki Sarkar " i.e propagating your party with tax payers money ? Had the CM spent the same amount of money on augmenting the oxygen supply, creation of extra beds in hospitals, procuring essential medicines in time, Delhi would have managed the situation smoothly. But people's misery doesn't move people like him who are wired to feather their own nest only.
The current covid surge warrants sincere efforts, in a coordinated manner, by all the organs of the governments. The problems faced by the people are not insurmountable, they can be resolved speedily if people in responsible positions put their heads down and try solving the problems and stop the blame game. The Central government has to come up with a clear plan to vaccinate its population at the earliest, as per expert advice . There is an urgent need to overcome the problems like shortage of oxygen, medicines, ICU beds and normal hospital beds and scale up the health care system several fold to enable it cater to the health care requirements of our population. The call to revamp and upgrade our health systems have fallen on deaf ears all these years. What kind of shortages have been persisting for decades in our health care systems are well known. The nation has the capability and capacity to ramp up the system rapidly. It requires the visionary efforts of those in power. The Covid pandemic has yet again exposed the shortcomings in our health systems and we should not miss this opportunity to do the needful. We have the resources, now we need the political will and the vision to forcibly do it.
(Vijay Shankar Pandey is former Secretary to Government of India)
Share via