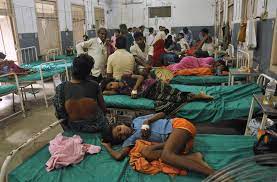 The governments and health care system will have to work indefatigably to organise all the essentials and ensure that people have easy access to the basic facilities.
V.S.Pandey
The second wave of corona virus has created havoc in India with daily loss of lives breaching new heights. Unfortunately, it seems to have spread to rural areas making the situation worse. It is well known that healthcare systems are almost non-existent in rural India and this sad state of affairs is the cause of serious worry for those managing the pandemic in states and at the central levels. Looking at the grim situation of mammoth daily infection numbers, many states have chosen to impose lockdowns. There is growing demand from many quarters to impose strict lockdowns as a panacea to control the situation. People have started raising questions about the decision to carry on with the recently concluded state assembly elections, holding of Kumbh Mela and popular cricket league IPL. No doubt closing down everything is bound to contain the spread but is this the way to go, is the question.
We are more than one year into this pandemic and we are much more wiser than in the initial months of last year. We know a lot about this virus, how it behaves, the protocols to enable people to combat it. Now we have various vaccines, which seem to be quite effective in mitigating the serious impact of the corona virus on the vaccinated population. Various kinds of medicines and injections are now available to doctors to treat people and many such medicines, more effective than the current ones, are in the pipeline and will be soon available to fight this virus more effectively and efficiently. Putting all these advancements together, it can be safely said that humanity is in a much much better position to defeat this pandemic. But this is easier said than done, governments and health care system have to work indefatigably to organise all the essentials like beds, oxygen, medicines, health care staff, nurses, doctors , ventilators , testing facilities etc and synchronise them well to ensure that people have easy access to the basic essentials that they require at a point of time . This is the primary job of every government- to ensure that their population is well catered to, and is able to access the required treatment to recover from this infection. This is what needs to be done by the governments. Based on the experience of other countries, it can be inferred that there will be a third wave also and the country has to up the preparedness for next few months and ensure that many slippages and shortages on medicine, oxygen, availability of hospital beds front etc because of which people are suffering during the current surge, are not faced in the future. That's the way forward.
As far as the issue of imposing lockdowns is concerned, we all know that life has to carry on with or without corona. Our country has to move on the path of progress and ensure a better life for its population. Many lessons have to be learnt from this pandemic. Let's also remember that this is not the last time that we are facing a new virus and its ill effects . Nobody knows when humanity will be made to face another such calamity.
The first lesson that the nation needs to learn is that decades of neglect of our healthcare care system cannot continue any more. The country needs to invest heavily, without any delay, to ramp up its healthcare system to a level where any situation, like the present, can be handled diligently. We need to overhaul the regulatory systems, which are not only thoroughly corrupt but are devoid of any futuristic outlook and approach. The input control system has to give way to output control system. The incalculable damage caused by institutions like Medical Council of India, the Nursing Council, Drug Controllers etc. has led to the shortages of doctors, specialists, nurses, various kinds of medicines etc. Every year lacs of bright youth are denied admissions in medical colleges and other such institutions due to the artificial shortage created by these regulators. It has to ensured that there are enough seats available in every discipline, so that any aspirant who wants to do the particular course has a seat available. These institutions should have focused on the quality of output by examining students as per norms rather than focusing on acres of land, buildings, rooms, library, equipment, number of teachers and other such peripherals. Let people be allowed the freedom to open as many medical colleges as possible anywhere but evaluate the output and their performance on all critical parameters. India should not only have enough doctors for its requirements but should be able to cater to the needs of other countries also.
Our country has suffered grievously due to corruption and selfish attitude of our regulators and others manning the system. Politicians ruling the country and states cannot continue ignoring the glaring issues of mismanagement and endemic corruption . The time is not far off when they will be shown the door as their deceitful, corrupt and cunning ways have been ruinously practiced for decades. This pandemic has exposed the rotten state of affairs of our system and the apathy shown towards the have nots. Surely this cannot go on ad infinitum .The time has come for change.
(Vijay Shankar Pandey is former Secretary to Government of India)
Share via